This isn't the Bali of your "Eat, Pray, Love" stereotypes. Though you'll have ample opportunity to do any of the three if you choose. Today's Bali is a complex paradise filled with adventure, food, and an island vibe that'll make you reconsider leaving.
With this Bali itinerary, 7 days will be just enough to soak up the constant see the beautiful landscapes of mountains, hills, and beaches, get to know the complex yet gentle and welcoming Balinese people, and experience the food, cafes, and night life that have sprung up from the internationally bohemian vibe.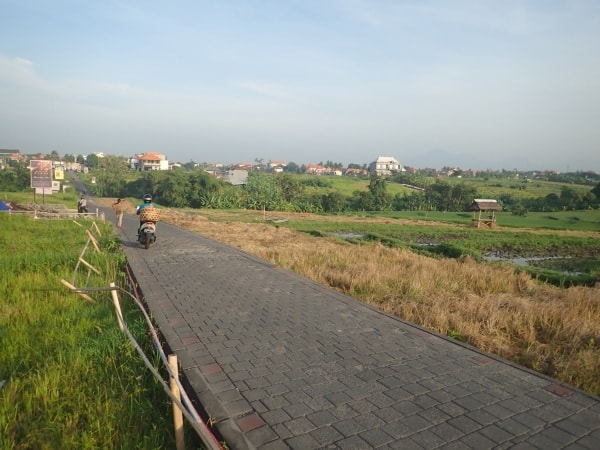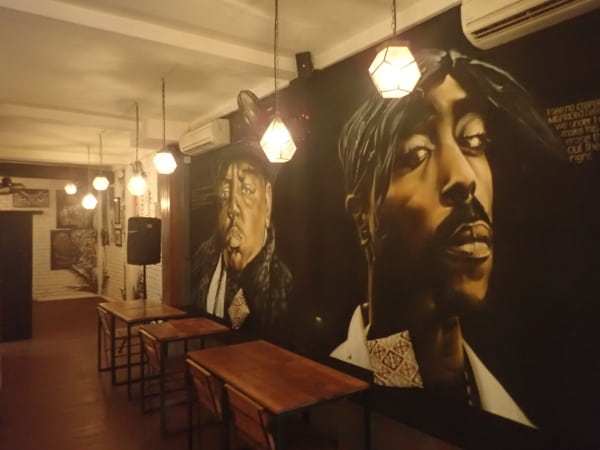 Whether you stay for a day or a year, Bali will likely steal your heart…and your desire to travel anywhere else for a while. In this Bali Itinerary, 7 Days is all it will take to give you a taste of all the adventure, food, and culture the "Island of the Gods" has in store…but I highly recommend more time.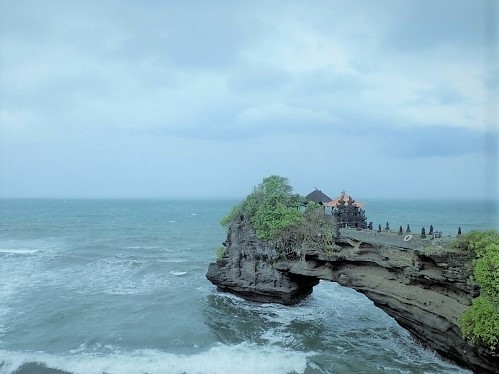 Welcome to Bali…
---
Contents:
---
The Best of Bali Itinerary: 7 Days of Solo Travel on the "Island of the Gods"
The landscapes, culture, food, and adventure opportunities on the island paradise of Bali that there's something for everyone. Start by enjoying an island paradise with an itinerary to hit the hotspots and there's plenty of opportunity to add whatever you need for your perfect vacation along the way
---
What to see and do in Bali
The Bali Food Scene
From the traditional Balinese food of heavily seasoned rice and noodle dishes with a variety of seafood, pork, and indigenous veggies, to the international fusion heavy cuisine of Canggu, Bali has plenty to eat.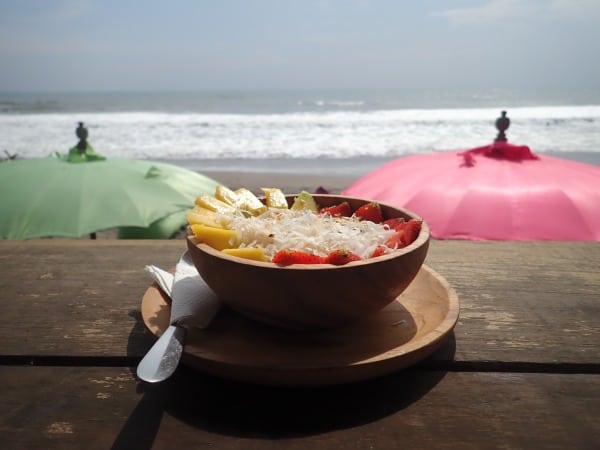 To make the most of the culinary adventure, hit any local markets you find to enjoy all of those tropical fruits that aren't available back home – like mangostine and soursop. Be sure to hit a traditional "warung" for amazingly cheap Balinese home cooking. End it by exploring the international fusion scene by hitting a few restaurants on our Best Canggu Restaurants list.
Whenever you're near the ocean and away from the crowds, in Amed, the Gilis, or the Nusas, be sure to try the local seafood dishes made the local way. It's all fresh, cheap, and delicious.
Don't get me wrong, Japan by far has the best cuisine in all of Asia, but the Canggu restaurants scene delivers in a way that will astound you.
Explore Balinese Culture
A large portion of the Balinese population is Balinese Hindu while most of Indonesia is Muslim making for a unique that comes out in the food, the traditions, the architecture, and the ambiance. The result is a very gentle, go with the flow culture with intense depth and deep history. You'll embrace it in this itinerary by visiting the major temples, which make for a solid cultural experience and a beautiful road trip. The best temples, in my opinion, are the Tannah Lot complex on the ocean, a day trip from Canggu, and the Elephant Caves, hidden in the hills a 10-minute ride from Ubud.
If you're lucky you might be around during a ceremony out on by a local temple to watch the procession and dancing dragon.
Adventure around Bali
Whatever adventure you're craving, Bali likely has it available.
For ocean goers, SCUBA diving, **Freediving**, and spearfishing courses and opportunities abound in Amed and on Gili T. Surf camps abound but Canggu is the best place for beginner surf as the surf breaks are beginner friendly and renting a board is cheap and accessible making Canggu my **favorite place to surf as a beginner**.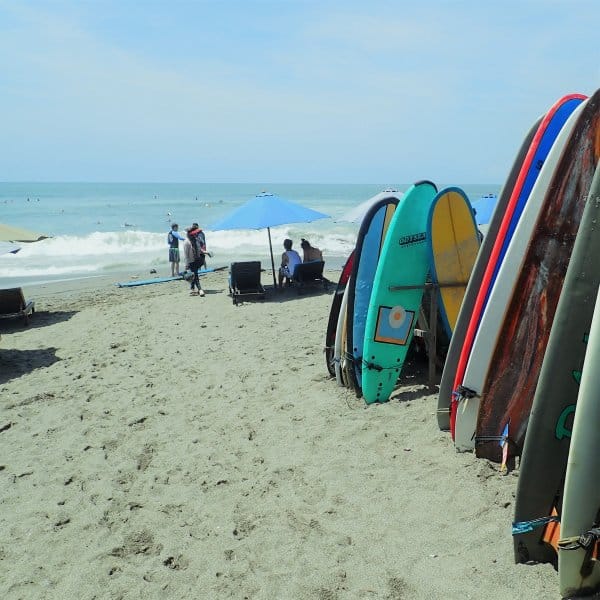 For more of an aquatic rush, consider cliff diving after a waterfall tour near Singaraja. There are plenty of 10 meters dives and some select 20-meter and 30-meter dives if you're feeling bold.
For the trekking crowd, hills and volcanoes, such as mount Rinjani, are plentiful. Whether in Ubud or on the islands near Lombok there are plenty of hikes and treks
Other adventures
Dolphin tours in Singaraja
Snorkeling a shipwreck in Amed
Renting a scooter and riding all of the way around Bali, staying at homestays along the way
Surf camp
Yoga retreat (of course)
Ultimately…Just Chill
Above all, Bali is my favorite place to just…chill. This likely why you've heard of so many expats disappearing into Ubud, Seminyak, and, more recently, Bali.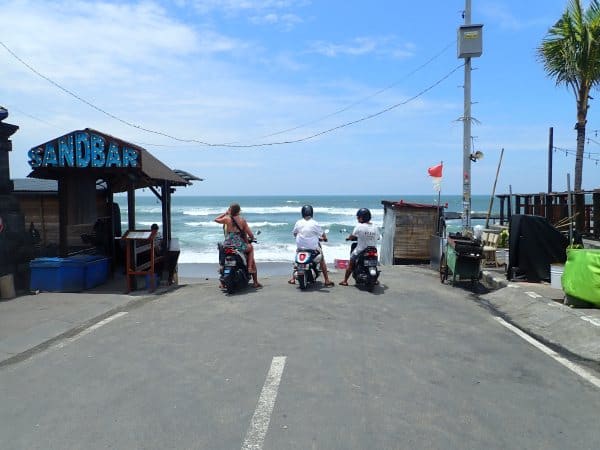 Given the access to your food of choice (and great Canggu cafes), your adventure/activity of choice, a warm ocean and a beautiful beach or a calming view of rice paddies, it's easy to come and just…stop. Bali was my recovery spot after 8 months of travel. A two week stopover turned into 2 months of surfing, diving, writing, and living and unimaginably enjoyable life. So, yeah, Bali's great to just chill.
But given so many options for what to actually do, deciding where to start and what to do can be overwhelming. Lucky for you, I've done plenty of "research"…also known as living my best life on Bali…and put together a starter Bali Itinerary for 7 days.
Let me make this clear: 7 Days is too short of an amount of time to get the most of Bali, but if it's all you have you should absolutely still go.
If you're lucky enough to have 10 days or two weeks, use this as a base itinerary, plan in a few flex days to stay in a place to enjoy for a little longer – every spot on the Itinerary has much to offer than what I'm listing, and all with the consistent "vibe".
Also be sure to plan on a day to recover from the jet lag and a day to relax and reminisce after your adventures. As your "launchpad" I can't recommend Canggu enough. Given the** things to do in Canggu, the Canggu Restaurant Options, and the coffee and the Canggu bars, it's hard to spend to much time in Canggu.
Without further delay, here's your Bali Itinerary for 7 days
---
Arrive in Bali, Denpasar à Head to Canggu
Depart bali
———————
Arrive in Bali, Denpasar à Head to Canggu
On arrival in Bali, head straight for Canggu, the perfect base for your travels in Bali. With a wide array of things to do in Canggu, in addition to ways to chill, you'll relax off the jet lag and ease into your vacation in a way you won't feel guilty for.
To get to Canggu, use the Grab or Go-Jek app to book a car from the airport to Canggu. The price will be roughly 100k IDP (~$7).
See the **"Getting into & around Bali" section for more info.**
Day 1: Canggu:
You'll likely be recovering from jet lag so don't feel pressured to go too hard, but don't waste the day either. There's too much to see in Canggu.
Canggu is known for its stellar array of cafes, brunch spots, and eateries so start off the day at one near the ocean. I recommend Canteen café tucked in the newest area between Batu Bolong and Echo Beach. Everything is good here but anything with avocado, French toast, and any coffee (cappuccino, flat white) with coconut milk will have you addicted.
After fueling up, rent a scooter to make you more mobile and adventure ready. Either stop at any shop renting scooters or contact my preference Kadek Local Bali Tours to have a scooter delivered to you. It's the cheapest and most convenient, and Kadek is a great guy: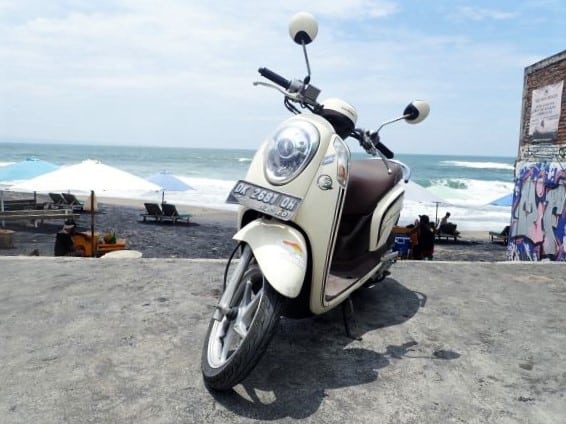 From here, cruise.
Ride your scooter up to the Tannah Lot Temple complex, a series of instagram worthy temples built on rocks out in the sea. The walk through is beautiful, peaceful and impressive.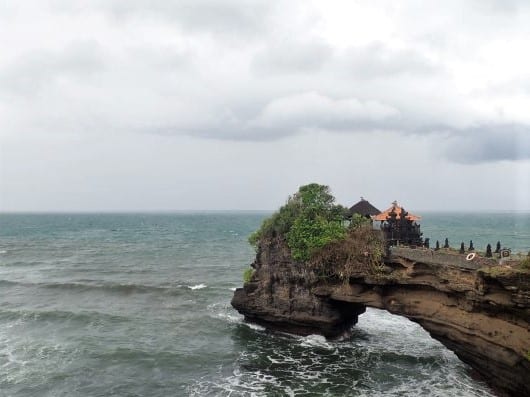 The ride from Canggu to Tannah Lot is a treat, as you'll cruise through less touristy Bali and pass expansive rice fields flanked by four story palm trees.
On the way back, detour and head to Seseh Beach, riding from there back to Canggu for a fun ride through more rice fields.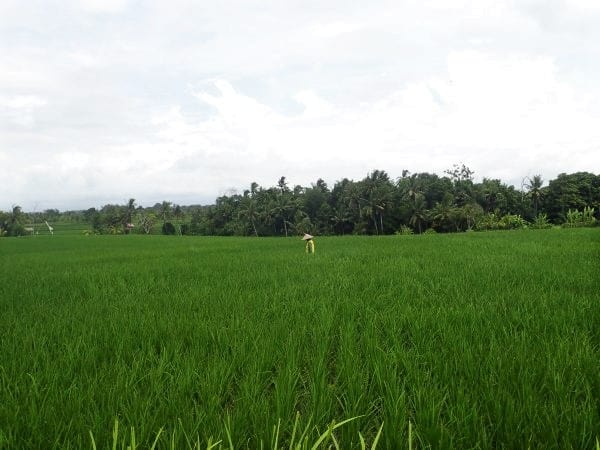 Treat yourself to a Balinese massage in the afternoon and pick a beach to enjoy your sunset on.
If you plan on calling it quits shortly after sunset, head to the beach shacks on Berawa Beach, particularly Kokoloko, and enjoy the sunset there with a smoothie bowl or cold coconut.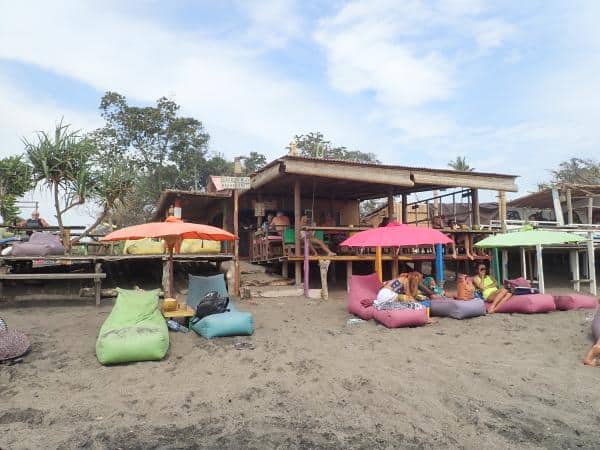 If you plan on going out afterwards, go to Old Man's Bar for the 5pm to 6pm two for one happy hour and enjoy the sunset watching the surfers there.
After sunset, go to one of the restaurants on our Canggu Restaurants List. Don't worry, the list is organized by which area the restaurants are in and the cuisine (Balinese, Japanese, Vegetarian, etc.).
If you have more time in Canggu, read through our list of 25 Things to Do in Canggu for everything to do that will likely make you not want to leave.
Other Canggu Options (on our Things to Do List)
Hit the Boutique Shops
Try a smoothie bowl
Take a surf lesson…or just rent a board and surf
Day 2: Travel to Ubud
After getting a taste of Canggu, head to the mountainous hippie haven of Ubud, home to yoga schools, trekking, and a generally great climate.
To get from Canggu to Ubud, you can reserve a car through an agency or take a Go-Jelk
To reserve a space in a shuttle, drop by any travel agency (they're everywhere in Canggu) and book a space for Ubud the day prior. Rates will likely Be 200k IDP ($14 USD) and will pick you up at your hostel or hotel. You may also be able to book directly through your hostel or hotel.
My preferred option is a Grab or Go-Jek as it can be Book last minute and you'll be riding in a car (not a van). Additionally, you may be able to ask your driver to stop off by the tiny Merta Harum Agro coffee plantation on the way that will give you a tour. The Go-Jek/ Grab option will likely run 100k-200k IDP ($7-$14 USD)
I recommend leaving as early as possible for the 1 hour ride so you can get in some activities in Ubud.
Your first day in Ubud
Make the most of your day by visiting the Elephant Caves, The Palace, the market, the Monkey Forest, and a restaurant (Ibu Oka) for suckling pig.
The Monkey Forest
Is a staple attraction and a "must do" in Ubud. This sanctuary is a large expanse of forest wherein monkeys roam free and you're their guests. A series of paths wander through their home and you get to see them perched on the road and in trees plotting on how to steal anything and everything from passing tourists. The whole experience is very entertaining.
Elephant Caves
This holy site is part outdoor temple and part cave that is about a 30 minute experience but generally nice and a different view on Hindu temples than the rest of Bali
To get to the Elephant Caves, flag a taxi and tell them where you're going. It's a 10-15 minute ride depending on Traffic
The Ubud Royal Palace and Ubud Museum
Ubud still has a royal family and part of their palace (the outdoor portion) is free to visit and walking distance from where most people stay.
If you enjoy museums, the Ubud museum is 10 minutes away (walking) and great to pair with a visit to the temple
The Market
Located 5 minutes walking away from the palace is an outdoor market with aggressive salespeople hocking trinkets and souvenirs to tourists. Come with your negotiating A-game and refuse to pay no more than half of their initial price and you may leave with some cool, very memorable souvenirs from Bali
Eat Suckling Pig at the restaurant Ibu Oka
Most Balinese people are Hindu, meaning beef is quite commonly off the menu, and instead they've mastered the art of pork.
"Bank Guling" is roasted pork and can range from a whole cooked large pig to, the best option, roasted suckling pig.
Enjoy some Babi Guling at the Ibu Oka Restaurant as their Babi Guling is legendary.
After dinner, make your reservations for the next day's adventure
Day 3: Ubud
Make your full day in Ubud an adventurous one by booking an excursion. The most common excursions in Ubud are:
Sunrise trek to the top of a volcano
Alternate trek up a volcano or through a jungle and tour through the rice fields
White water rafting
ATV tour through the jungle
To book any of these you can book online if you're worried about not getting your tour of choice but except prices to be 3-5x of what they would cost to book in person.
To book in Ubud, go to any travel agent and ask for their prices. Be sure to negotiate and stop by at least 3 to compare prices before purchase as some travel agents have better deals negotiated for specific excursions.
Also considering booking your travel to Gili T with the same travel agent that you booked your excursion with, and ask for a discount.
Day 4: Travel from Ubud to Gili Trawangan
After the hilly adventures of Ubud head to the turquoise waters and white sands of the island Gili T.
To get to Gili Island you'll need to book a ferry and transfer through a travel agent. You'll be picked up earl, around 8AM by a shuttle that will take you to Padangbai port. You'll wait here about an hour before a boat comes to take you from Padangbai Port to Gili T. All of this should be purchased on the same ticket and the ticket prices are very negotiable depending on how high Tourist traffic is.
Day 5: Gili Trawangan, snorkeling, "beaching"
Gili T, or "Gili Trawangan" is one of the three smaller "Gilis" or "islands" off the coast of Lombok. Gili T has a bit more infrastructure and is know for being the "party island, although it's much more relaxed than that nickname implies and much more calm than Kuta and Seminyak.
On all three of the Gilis,Gili T, Gili Aer, and Gili Menoe, there are no cars or motorbikes, only bicycles and carts pulled by donkey, adding a very laid back feel at a completely different place
What to Do on Gili T
Your main options on Gili T are snorkel, SCUBA dive, chill, and rent a bike and explore
Absolutely Rent a Bike on Gili T, first thing!
Given there are no cars or scooters on Gili T, and the tortured donkeys cost a fortune, bicycles are the only reasonable way to explore, that should be the first thing on your agenda. The main road wraps the edge of the entire island and having your bike makes all of Gili T your play area.
Snorkeling on Gili T
Renting fins, snorkel, and mask is very easy on Gili T and though there isn't a lot of coral there are a ton of sea turtles. The best places to go spot turtles are the north and north west but the beach is much rockier so you may need to rent a pair of reef shoes.
SCUBA Diving on Gili T
There is a unlimited number of dive opportunities for all levels on Gili T, and all available for very cheap. The average dive costs between $20-$30. Booking online in advance isn't completely necessary, but if you're picky about accommodation book at least one week out.
Freediving on Gili T
If you're feeling adventurous and want to pick up a fairly practical adventure sport, consider trying **freediving**. Beginner courses run nearly daily. For experienced freedivers, the warm waters and tightly packed islands surrounded by underwater canyons open a world of possibilities
Chill
This is an extremely easy one. Just take your bike and cruise away from the port area in either direction and there are countless beaches that are fairly empty as well as beach shacks with umbrellas and sun beds for rent.
In the evening, go catch a beachside movie projected onto a big screen with the ocean in the background at Vila Ombak at 7pm and 9pm for 100k IDR – free popcorn included. When I showed up the movie of the night was Leonardo DiCaprio's "The Beach". Good pick.
If you don't feel like paying Le Pirate Beach Club plays a movie at 8:30PM for free and Pink Coco plays a movie at sunset for free
Where to Eat on Gili Trawangan
Banyan Tree is right on the ocean, near the port and the main boardwalk. They offer a wide variety of western and Asian breakfast options (including smoothie bowls) for a very reasonable price
– 50k-60k for an entrée, 30k for a cappuccino –
Great Thai food on the beach at a good price, and a very pleasant manager and staff (50k-60k for a dinner entrée)
Day 6: Back to Canggu
After your island excursion, it's time to head back to your home base on Bali. Canggu. Be sure to book this trip ASAP as boat's book out very quickly and unexpectedly
There are several options for getting back to Canggu but the best is a boat to Padangbai Port and a shuttle from Padangbai Port dropping you off at your accommodation. Be sure to get it written on your ticket that accommodation is included.
To book your accommodation back, stop by any of the travel agent booths on the main road near the port. Be sure to stop at 3 and make an attempt to bargain. Book your travel back at least one day in advance as boats can fill up without notice
Day 7: Canggu & Chill
When you arrive back to Canggu, enjoy the best food, coffee, and sunsets Canggu has to offer using these articles as guides
If possible, allot some time to just chill in Canggu. Make it a point to see the other sites you missed, especially those in the 25 things to do in Canggu. Consider going to the local markets, such as the weekend markets at Love Anchor or Old Man's. If you need to do some souvenir shopping, consider heading down to the Kuta shopping/tourist district for a wider selection at slightly higher prices.
If you've done your duty as a traveler and made friends with a local, see if they'll take you to the secret locals market – but don't think you can get in alone as a Balinese ID is necessary.
Depart Bali
To head out from Canggu to the airport, simply book a Grab or Go-Jek planning for it to take at least 15 minutes to be matched with a driver.
Getting into and around Bali
Getting from the airport to Canggu and also for getting around Bali there are four primary options: Taxis and mototaxis, Go-Jek or Grab ridesharing app, and shuttles. Public transport is nonexistent on Bali and Grab/Go-Jek tend to be my favorite.
Taxis and Mototaxis:
Pricey but ubiquitous, beware of ripoffs
Taxis and Mototaxis can be flagged down easily but notoriously gouge tourists with 3-5x the fair rate, taking 5-10 minutes to negotiate to the real price. I find flagged taxi aren't worst the time or cost.
Go-Jek and Grab App (Ridesharing)
Best option for getting between cities and to/from the airport
Go-Jek and Grab are the local rideshare apps and the equivalent to Uber, except cheaper and much more versatile. Grab is actually the company that purchased Uber's market share before Uber left Asia, and they'll be in nearly any Southeast Asian country. Go-Jek (which literally means "motorbike" in Bahasa) is a locally owned and grown, Indonesian Rideshare app. Both are reliable and conveniently let you book via the app and pay in cash.
To use Grab and Go-Jek, simply download the Go-Jek and Grab apps and you have the best way to get anywhere. The apps work the same as those in most other countries and you can pay cash. This way you get a great rate that you can see before you even reserve your ride. I recommending having both apps.
Go-Jek and Grab in Bali have the great plus of being a food delivery service. Once you find a restaurant you love, use either service to order delivery.
Shuttles
For intercity travel, such as to Ubud, Amed, or Singaraja, shared vans are an option. These can easily be booked via your hostel/hotel or at any travel agent.
Money
Due to the mashup of Balinese, living traditionally, and the heavy presence of westerners, the cost of your stay could be as low or as high as you want. Backpackers could get by with $25 a day easily, without skipping the essentials and still enjoying. On the other end of the spectrum, package tourists can easily spend hundreds of dollars per day.
Tips for Saving Money on Bali
Pick a few activities that will make you extremely happy, and stick with those (surfing, diving, trekking)
Consider going DIY as much as possible on your trip. Everything from surfing to trekking has a very cheap, easy to figure out DIY option.
If you really need help, book a guide just as you need it, and get a local. Surf camps for 5 days rn $1000 USD. A one day surf guide runs $20-$40
Choose Canggu over Kuta and Seminyak
Book your accommodations at least a week ot
Rent a scooter: the $3 per day will save you money on transportation and allow for cheap, self guided adventures, like cruising to Tannah Lot or Amed
Get adventurous on your scooter: beautiful temples and waterfalls abound out of the reach of scooter-less tourists. Use maps.me to scout out potential destinations
Automatic Bank Machines (ATMs) on Bali
Within Kuta, Canggu, and on the Gili's, ATM's are very accessible and give out Indonesian Rupiah. Beware that Indonesia is blacklisted by some banks, so you'll need to alert your bank before going to pull from an ATM or charge your credit card to avoid being blocked. Also note that even after notifying your bank, some ATMs will not let you pull out money, so just move on to the next one.
Also note that some ATMs will only allow you to pull if you have Visa, if you have Mastercard, or if you have a local bankcard
Automatic Bank Machines (ATMs) locations on Bali
The bank machines at the following locations work the best with European and North America based credit cards.
Automatic Bank Machines (ATMs) in Canggu: Next to Finn's beach club in Berawa, next to the mini markets near Old Man's pub (100 meters up Batu Bolong street), next to Love Anchor on Batu Bolong, in front of the Rip Curl store at the intersection
Automatic Bank Machines (ATMs) on Gili T: Near the port (where you were dropped off) only
Automatic Bank Machines (ATMs) in Kuta: Everywhere
Automatic Bank Machines (ATMs) in Ubud: Everywhere
Exchanging Currency
Exchanging currency, from US dollars, Australian Dollars, or Euros, to Indonesian Rupiah is very difficult and the rates are competitive. FYI, you will get a rate just as good as pulling Rupiah out of the ATM so I recommend that option foremost.
For the best rates, do not exchange much in the airport, just enough to get to your hostel/hotel. Plan on a Grab/Go-Jek ride to Canggu costing ~200k-300k Rupiah ($14-$20 USD). For the best rates, exchange in the neighborhood you'll be exchanging in.
Be sure to exchange your Rupiah before leaving Bali!!!. You will receive much less than you think if exchanging outside of Bali, and if you're exchanging in another country with a currency that isn't widely sed (Philippines, Thailand, Malaysia) expect to lose about 30% of your money on the exchange. Your best option is to exchange your Rupiah for US Dollars or Euros before going to the airport. You will lose about 5% to 10% on the transaction, but this is much cheaper than you'll get anywhere else and you won't be stuck with currency you can't exchange/spend.
Communications: Wi-fi, SIMS, and Data
The communications situation varies across Bali.
For wi-fi, in Canggu and Kuta, plan on strong wi-fi being strong and ubiquitous at coffee shops and fairly reliable at hostels homestays, and hotels.
In Ubud and the Gilis, expect wi-fi and connectivity in general to be spotty at best.
If you really need connectivity, purchase a local SIM.
Local SIMs can be purchased anywhere you see banners with the "3G" or "4G" logo, and 2GB of data will run you about $3.50 USD with the SIM card. Just ensure your phone is unlocked and quad-band capable.
7 Days Aren't Enough on Bali
As comprehensive at this Bali itinerary is, 7 days are absolutely not enough to get the most of Bali…but if you only have 7 days then absolutely still come to Bali. If you have more than 7 days (optimally 10 days or 2 weeks) use this itinerary as a frame and add time in areas you enjoy the most. Keep Canggu, Ubud, and Gili T as the three main locations in your itinerary but consider adding the following options
Now that we have you convinced to come to Bali and familiar with the lay of the land…
You may also enjoy these articles on Bali from A Brother Abroad:
If you know you're craving an adventurous experience during your time on Bali, you will absolutely be interested in these stories and guides:
**Learning to Surf on Bali**
**Freediving on Bali**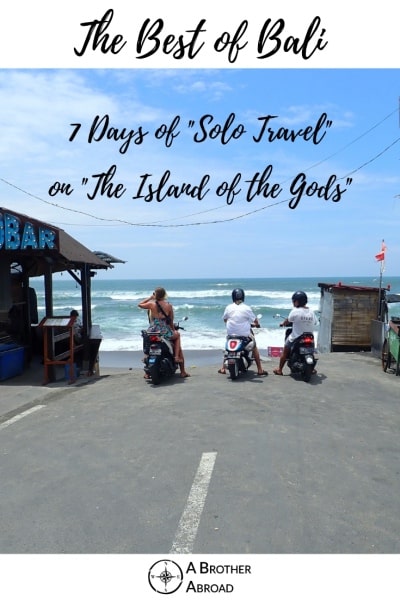 Be sure to bookmark this page so you can follow up during your travels!